Search Engine Optimization for Journalists, Part 2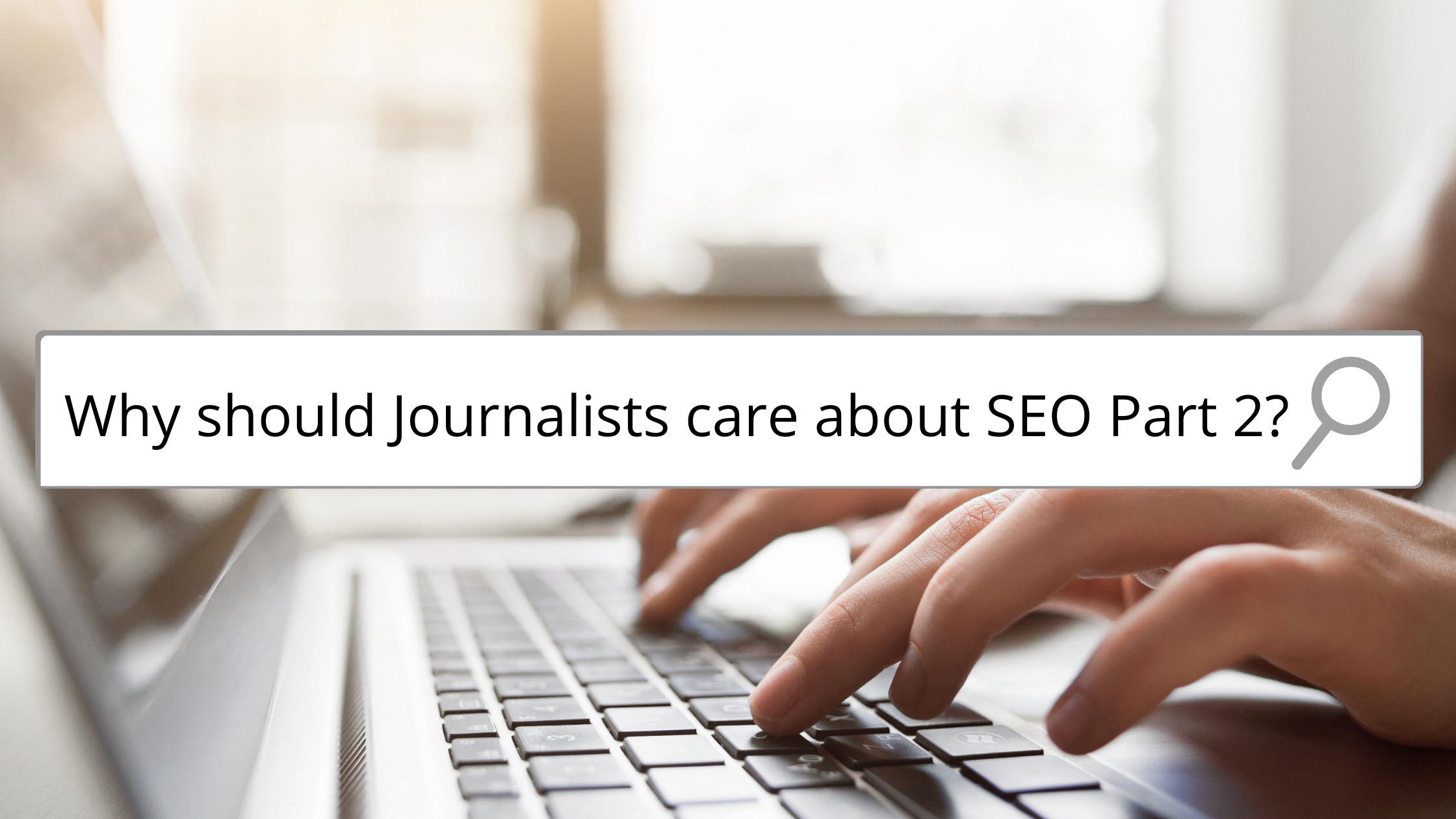 Written by: Tommi Heikkonen, Fiare CEO
In the previous writing, we went through some background information about what SEO (Search Engine Optimization) is and why it is relevant for individual Journalists. In this article, we will go through some practical steps on what a journalist can do in the daily work from the standpoint of SEO.
In news media, the first fundamental thing is in place by default: Search engines like websites with constantly updating content. News sites do have content that is constantly updating, so your competitive situation is favourable to start with. But consider also the below.
Here are a few practical hints to help Journalists with SEO:
Write clear and precise phrases.

Try to avoid complex sentence structures. It is easier for a software robot to understand simple language. But simple language does not mean bad language. Just keep this in the back of your mind when creating an article.
Include the actual news topic in the first two sentences.Do not have long explanations before getting into the actual news. This will confuse the bot evaluating the site.

Short, catchy and precise article titles.This is rather self-explanatory – 'short and catchy' works in the online context anyway so the Google bots like it as well.
Refresh the news with additional details.Once you have published the article, do not forget about it. Of course, you want to follow the reader metrics, but remember that Google bots like updated content. When new details come up, go and update the article. This will keep it fresh. Your content management system should also update the publishing time accordingly. If there is a major change, you may want to consider publishing another article, but remember to link the articles together. Google likes article references. External links are more powerful but linking within your own publication is also a positive thing.

Keep article length between 1200 – 1800 words.

ClickbaitingMany of us have an opinion about clickbaiting ('avoid THIS habit on a date') and often the opinion is not positive. However, they work really well in an online context. You can build clickbait headlines with a less irritating style, for example: '5 ways to have a great Christmas party' or '7 ways to speed up your laptop'.
Go and ask for article topics from your IT department (or other SEO responsible entity).Yes, you read it right. Why would you do such a thing? Popular search terms are public information. So we know what topics people are searching for each day. If you write an article about a popular topic it is quite likely that your article and publication will receive a share of readers who are searching for information on that topic. Especially if you couple the topic with your local context, then it's likely that your local readers will find their way to your site over nationwide competition.There are two types of keywords: "branded keywords" are keywords that include your publications brand name on them. It is easier to be successful in that category. Claiming traffic from "non-branded" keywords is more difficult but maybe more rewarding since generic keywords tend to have more traffic. Popular keywords may be surprising: for example a comic-strip name. Why not create an article about the creator of a comic strip that is often googled?
Make sure that you use appropriate keywords (also known as tags) when you create an article.

Search robots like tags. With tags, you will explain to the search engine robot what your article is about and when it understands it correctly, it is easy for it to recommend it further. See an example at the end of the list.

Link other articles from your own publication to your article.Google likes articles that are being referred to. Having references from credible external sources is more powerful, but even internal links have a positive effect.

Share your article on social media channels.Sharing your article to your publications social media channels, such as Facebook or Twitter, is recommended and you may want to consider having a personal professional presence for different social media channels. If your article goes viral, i.e. gets a lot of shares and readers on other platforms, that has a long positive impact on your publication and you as a journalist. Using a content management tool that has social media shares already configured and used as an integral part of the publishing process will make this easy.
Meta descriptions.Similar to tags, meta descriptions help you explain to the search engine what your article is about. But search engines do not like too much explaining. The meta description should be between 50-160 characters. A modern content management system can make your life easy by making Meta description adding easy. See an example at the end of the list.
Avoid using heavy elements as part of your article. If you are using a modern content management system, it will automatically make sure that pictures, video and voice elements are in a format that will not cause problems to the page loading speed of the article or site. But sometimes if you choose to use GIF (those short moving clips with no sound) or self-made diagrams that make your article download slowly, then you may accidentally ruin not only the SEO of your own article but the whole publication. If you are uncertain if an element is OK, ask somebody with IT understanding to check it before publishing an article.
Last but not least: use a content management system (CMS) that is designed for digital publishing. Digital publishing must be easy. If not, you will lose your agility and creating good digital content is unlikely to happen. If the article creation process is complex or difficult, it is unmotivational, especially if you happen to know that your competition is publishing rich and fantastic looking articles in a fraction of the time, and they get all the readers.
How did you like the hints? Comments are most welcome.
We offer SEO analysis for news sites. Interested? Contact us today!