Quintype has given Swarajya the platform to boost itself and get on a growth trajectory with subscriptions, engagement and flexibility altogether in today's information-packed digital space.
THE SCENARIO
Towards the end of 2015, Swarajya found itself facing a number of challenges as well as aspirations in the wide world of the internet. 
Swarajya was in a position where it was still, primarily a print publisher, and was spending copious amounts of time & resources to make its digital presence felt. 
Swarajya, despite having a booming body of rich and high-quality content, required a means for its print subscriptions to be adopted into the online subscription space as well, as more users consumed their content online. 
As time went by and developments happened Swarajya found itself requiring a little more flexibility with its front-end website development, as well as a stable CMS to manage content. 
Syndication with various news feeds was something that Swarajya, as a news publisher, wanted to get into. 
Swarajya has now, been aiming to connect with its reader-base, to boost engagement.
ABOUT SWARAJYA
Swarajya is a 61-year old, politically independent liberal, right of centre, the magazine which saw its genesis in 1956 by C Rajaji. Its resurgence came in 2014 when it also moved into the digital space. Its principles include individual liberty and enterprise, free markets, openness & cultural rootedness, that is mindful of India's diversity and reduction in the role of the state.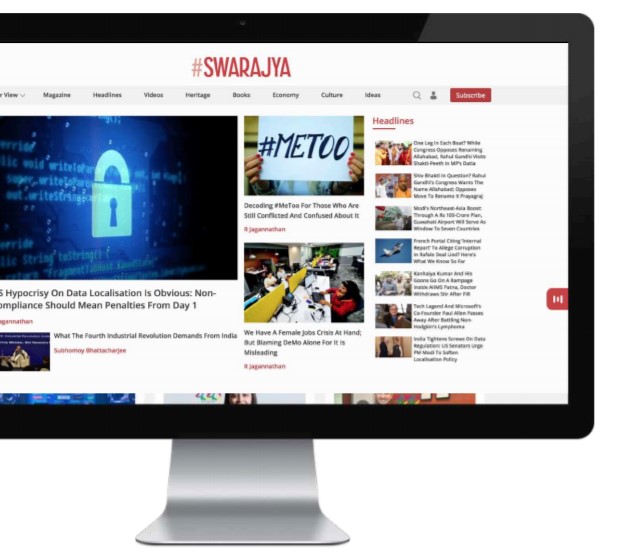 THE SOLUTION
Quintype stepped in to bridge these gaps and facilitate Swarajya's growth
Quintype stepped in as a technology partner, dealing with the entirety of the development and tech effort required by Swarajya; from building the front-facing website to the intuitive ease of use of the CMS by their content creation team. 
Quintype developed a custom subscription platform for Swarajya at first which was later replaced by an indigenously developed full-fledged subscription product of its own, called 'Accesstype.' 
In late 2016, after its rapid growth, Quintype's headless CMS model allowed Swarajya to add developers to its own payroll, who could then, manage, maintain and actively develop Swarajya's Front-end website with support from Quintype. 
In early 2018, Quintype developed integrations with news media services such as PTI and IANS to ingest content directly into the CMS without manual entry required. 
Metype from Quintype has provided Swarajya with the engagement tools required to ensure that its readers are heard. Metype's User-Generated-Content or UGC widget connects directly with Quintype's editor. 
SWARAJYA 2.0
Quintype alongside it, now and beyond
 Unshackled to be free of the tech grind of development cycles and having to allocate time to keep up with the constant changes in today's internet, Swarajya was able to create great quality content in journalism as per its initial motto. It has thus been able to grow to become an authoritative voice of reason representing the liberal centre-right point of view, garnering over 1 million readers every month. 
Swarajya has seen its public and paid readership skyrocket with the addition of digital subscription content which has helped them to, in turn, create even more premium quality content. This content is made accessible via its desktop, its mobile website and its mobile apps. It has emerged as one of the only media houses to generate between $ 150,000 – 200,000 of its revenue from subscriptions from its 8000+ active subscription base alone! 
Quintype's headless CMS allowed Swarajya to have the flexibility of experimenting and ideating quickly on their front-end website with the robust backbone of the CMS in place.
The ability to have syndicated content, to be directly ingested into the CMS awaiting, either merely an editor's approval or modifications and then approval or even to be directly published with a special message earmarking those stories as not generated in house, freed up more hands to do better more quality work.
Metype's commenting, feed and UGC widgets have enabled readers to also be a part of the content creation process, while getting them more engaged with the content, discussing, spending more time and bringing more traffic to the site. An uptick in the rediscovery of content from the website has been seen, attributed to the feed widget. The direct integration of the UGC widget with Quintype's editor allows users to submit content that can go straight to an editor for approval making engagement and content creation come even closer.